Say howdy to kinkyfriedman.com, the official Kinky Friedman website.
Here you will find all the latest information for Kinky Friedman: musician, author, entrepreneur, and the Governor of the Heart of Texas. Keep up to date on Kinky's world by joining us on the official Facebook pages here and here and on Twitter here. You can also follow him on the Where's Kinky Friedman Facebook page.
Time to Step Up, Y'all!

Kinky's Running for Texas Ag Commissioner!

Yes, it's official, and, yes, he has a platform. And it's
MAJOR
.
Kinky wants to
END
the prohibition on marijuana, and
he wants to
PROMOTE
the cultivation of hemp in Texas.
He
HAS
a plan for water conservation, and
he
IS
the right guy to represent the people of the state of Texas.
GO
to Kinky's campaign site
NOW
at
TexasForKinky.com
to read more about

Kinky's plan for the future of Texas
.
GO
to
TexasForKinky.com
to
contribute
to the campaign.
GO
to
TexasForKinky.com
to
volunteer
.
Ag as in Agricultural
Kinky's Texas Liberation Tour
Goes Australian and Hawaiian!
Break out your suntan lotion!
For dates, click here!


Get Kinky in Your Living Room
Kinky Lends a Strumming Hand
for America in Recovery Rally!

Stay Tuned for News About This Show!
Kinky Friedman Birdnapped! Please Help!
Photo by Brian Kanof

Russ Erickson's beloved pal of 16 years, a gorgeous pet macaw named Kinky Friedman, was stolen from his perch in Coral Gables, Florida.

Supporters of Kinky's 2006 gubernatorial campaign will recall the bird gave Kinky a ringing endorsement. We'd really love to see Russ and Kinky reunited immediately.

For more on this story, click here.

Kinky and Dwight: Unstrung Heroes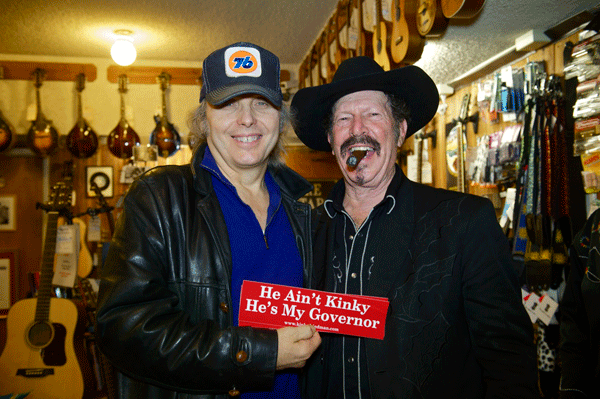 Photo by Brian Kanof

During Kinky's recent Bi-Polar Tour, his longtime BFF Dwight Yoakam embodied the true Spirit of 76 by showing us who'd get his vote. Then, Kinky shared a different kind of spirit with Dwight: his hot-selling Kinky Friedman's Man in Black Tequila. To enjoy high-resolution images so breathtaking that you'd swear you were just stopping by to buy some mandolin strings and found them offering you a nice bumper sticker, click here.

The Kinkster on a Humid Day?
No, actually it's a 1972 photo of the great radio, film, and television star Vincent Price. Even Doctor Phibes could get a little Kinky.
Get the new

Bi-Polar Tour: Live from Woodstock

CD from CD Baby now!
And to learn about Jesse Dayton's special appearances with Kinky in honor of Jesse's new CD, Jesse Sings Kinky, click here!

Mojo Gets His Kinky Up!
Or Kinky gets his Mojo up. Either way, everybody's favorite cowpunk Mojo Nixon has recorded what should be (at the very least) the official song of the Republic of Texas: "Kinky Is Everywhere." Click on this link to hear what the bats under the Congress Street Bridge have asked Mojo Nixon to pass on to the rest of the world. Take it away, MOJO!

Kinky's E-Books: Ready to Download!
Kinky gets digital in a big way with the release of many of his popular whodunnits for
Amazon Kindle, a Barnes & Noble Nook, or an Apple iPhone, iPad with iBooks, or iPod Touch
. Visit our brand-Spanking-Watson-new
E-Books page
to download your favorites! And just added:
Heroes of a Texas Childhood
!
More titles are on the way—all of them featuring new introductions by the Kinkster. And audio books, read by Kinky himself, will be available soon to brighten up your
iPod
or other listening device.
Read the Examiner.com article on Kinky's audio books!
Here is what
The Washington Post
says about Kinky's mystery series: "How is this mystery writer different from all other mystery writers? We don't read him to find out what happens next, we read him to find out how far he will far he will go."
Lifesaving Efforts & Successes!
Kinky's Lifelong Passion!
Watch Kinky Friedman talk about one of his most important causes, then watch the story of the Utopia Rescue Ranch.
Follow That Jewford!
Will technological wonders never cease? You can now follow Kinky's sidekick, Little Jewford, on Facebook and on Twitter. Stay updated on all sorts of quality-cigar and backwards-piano-playing hijinks courtesy of Señor "You're Welcome, Kinky!" himself!

Go now! Run like the wind!
Kinky Komix!
Illustration by Gary Clement
Kinky was quite tickled by this clever comic history of his life as rendered by
Gary Clement
for the May 4th interview that appeared in the
Canadian National Post
. Oil vay indeed!
Dedicate These Songs with the Dedicated Kinky Friedman Jukebox!
Want to hear samples of the live Kinky experience?
Click here!
Enjoy the dedicated Kinky Friedman jukebox!
Kinky Friedman - Keynote King

Smack in the middle of the political high season, guess who is the most authentic and sought after keynote speaker in Texas? Here's a hint: it's not the hair guy, and it's not the no-hair guy. It's the kinky-hair guy.

That's right, Texas' most in-demand keynote and feature speaker is none other than Kinky Friedman.

With an understanding that all conventions and professional gatherings demand a great kickoff, Kinky brings with him the perfect blend of satire, political humor, hilarious insights into the human condition, and wicked social commentary.

As a media darling, he also brings a very large spotlight to every event. So popular are Kinky's engagements that many top organizations are rebooking him for future events. For more information and bookings, contact

Cleve Hattersley

at

cleveandmary@austin.rr.com

or at

512-873-0249

.